企业动态
《环球时报》报道 - Sunrise for telemedicine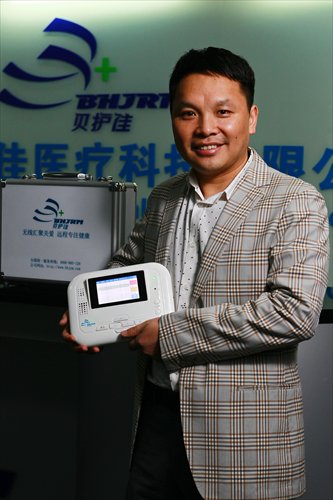 Li Chunting, founder of Beihujia. Photo: Courtesy of Li Chunting
The telemedicine industry is entering a new golden age. On the basis of rapid hardware and software innovation, new intelligent detection technology can help people monitor their health conveniently and stem the progress of disease. The technology can even help ensure the optimal timing of treatment.
In almost all the first-tier cities in China, pregnancy has become the most carefully medically supervised period for women. Startup company Beihujia Medical Technology Co Ltd is offering its portable testing hardware products to provide a new method for prenatal care for pregnant women.
With the equipment, pregnant women give themselves prenatal care at home, paying no more than 80 yuan ($13) a day to rent the equipment. The woman gives herself an ultrasound scan. Within 20 to 30 minutes, it will generate an index of uterine contractions, fetal heart rate and other indicators of health. The index will be submitted to the prenatal doctor by a cloud service provider. Usually within half an hour, the pregnant woman can receive a reply from the doctor using an app.
"The remote fetal monitor mainly monitors whether the fetus in the womb is healthy. Pregnant women can use it at home, saving a lot of hidden costs like queuing time at the hospital, the time of family members who accompany them, and lost work hours. At the same time, we can provide online doctor service 24 hours a day," said Li Chunting, the founder of Beihujia.
With 16 years experience in pharmaceutical sales, Li encountered the concept of fetal monitoring for the first time in June 2010 when attending a medical products hardware development conference. After accumulating some market data, he determined only twenty to thirty thousand fetal monitor devices can be provided to hospitals. This means demand for monitoring exceeds supply, leaving a very large market space. Li also thinks that acquiring a list of wealthy women who are pregnant also can generate profit.
"After using the remote fetal monitor, all the information of our clients will be kept in our database. Modern society is a digital society. When we acquire millions pieces of data, we can do data mining. We can in a timely manner provide comprehensive medical services such as selling milk powder and infant products. It will form a huge industrial chain in the future," Li said with confidence.
Beihujia has been in the Chinese market since November 2013. More than 300 users have experienced the new equipment. "Our repository shows that of all the users, 33 percent have a high demand, including those who have frequent miscarriages."
"We are currently facing two main problems," said Li. "The first is pressure from hospitals. Hospitals now resist cooperating with third parties, which fundamentally hinders the promotion of our market. I believe that soon, the government will give us support and this situation will change. Second, we are facing money pressure. Our current income in our company is limited to the rental fees for our equipment. More funds are necessary for the expansion of our scale in the future."
Li said that providing healthcare hardware is a sunrise industry, which will develop quickly over the next 5 to 8 years. "For a man, or even a team, the happiest moment is the time doing a meaningful thing. I sincerely hope that through our industrious efforts, we can pass positive energy to the whole society."
http://www.globaltimes.cn/content/843262.shtml